Are you familiar with the benefits of diffusing tea tree oil? Tea tree oil originates from the Australian continent and has been used by native aboriginals for hundreds of years. Tea tree oil does not come from tea leaves but is taken from an Australian tree. The leaves of this tree are crushed and used in a variety of traditional and modern medicines.
Today, the use of tea tree oil has expanded. It can be found in all kinds of beauty and health products. In fact, it has grown in popularity as an essential oil. Many people now diffuse this oil to improve their health and their quality of life!
In this article, we will dive into the benefits of this essential oil. We will also talk about why you should diffuse tea tree and other essential oils.
What is Tea Tree Essential Oil Good For?
Tea tree oil (Melaleuca alternifolia) is known to have a host of health and wellness benefits. In this part of the post, we'll get into the main benefits of this great essential oil! These are just some general positive effects tea tree oil can have on your health.
Improving Skin Health
If you have acne problems, or just want to have clear and smooth skin, tea tree oil can improve your complexion. A small amount of this essential oil can be used in skin treatments and face washes to improve the look and health of your skin.
Tea tree oil is known to fight off acne and other skin conditions such as psoriasis. You don't want to saturate your face in essential oil. But a few drops can go a long way for your skin health!
Has Healing Properties
In addition to making you look good, tea tree oil can also help your skin heal faster. Tea tree is great for wound and cut healing. By diluting this essential oil with a carrier oil and rubbing it over a closed wound you can help speed up the healing process. You can also prevent scaring and skin darkening.
Helps Reduce Skin Inflammation
If you have an allergic reaction, get a bug bite, or have other types of skin flare-ups, you should try using tea tree oil. Tea tree oil soothes skin inflammation fast and effectively. You want to use a small amount like you would with any essential oil. But this oil is great when your skin is itchy, red, and uncomfortable.
Has Anti-Bacterial Properties
Tea tree oil can also be used on open cuts and wounds. This oil is known to get rid of bacteria and pathogens. Again, it needs to be diluted, but, by gently applying this to your cuts you can safely sterilize your body.
Tea tree can also be useful for treating fungal infections and other bacterial infections found on the feet.
Is Good For Scalp and Hair Health
When you have a dry scalp, dandruff can appear and coat your hair in white flakes. No one wants a head full of dandruff. Luckily, a little bit of tea tree oil can moisturize your scalp and keep it free of dandruff. This oil is a common natural remedy for getting dandruff under control.
It can also help keep your hair looking shiny, feeling soft, and smelling great!
Helps Clear Up The Respiratory System
Lastly, tea tree essential oil is great for your lungs and respiratory health. Whether you are dealing with asthma, persistent coughs, or a sore throat, tea tree can help you. Diffusing this oil, or inhaling its scent can get you breathing easier!
5 Benefits of Diffusing Tea Tree Oil
When diffusing tea tree, and other essential oils, make sure to get 100% natural products. Synthetic and impure oils are not only of a lower quality, but they can be dangerous to inhale and diffuse. So, keep this in mind when you are trying to diffuse tea tree oils.
Really, though, if you get a high-quality essential oil, you should have no issues at all. There are a host of benefits when you diffuse tea tree oil and other organic essential oils in your home. We'll get into these great benefits here. Tea tree oil, in particular, has some of the best benefits when it is diffused!
4 Types of Essential Oil Diffusers for Aromatherapy – Which is Best?
1.) Helps With Allergies
More and more people are developing allergies. Anti-inflammatory medications and over the counter allergy pills can be helpful. But, if you want a more natural solution to allergies, diffusing tea tree can be just what you need! The aroma and vapors of this oil clear your airways and relieve major symptoms of allergies. Best of all you won't have any side effects with this organic remedy!
2.) Makes Your Home Smell Better
This is an obvious one, but diffusing any type of essential oil will help make your home smell better. Air fresheners and other deodorizers could be used in your house. But these sprays contain chemicals that can be bad for your lungs. Diffused tea tree oil is a much better, and safer natural product!
3.) Can Help Ward Away Bugs
Whether you diffuse this oil or put it on your skin diluted, tea tree oil is great for warding off bugs and other critters. You can diffuse tea tree oil near yourself when you are sitting in your backyard or front porch.
4.) Can Reduce Snoring
Not only can you breathe better when you breathe in diffused tea tree oil, but you can also sleep better. With your airways cleared, you won't snore as much. We recommend letting this essential oil diffuse near you at night to get this effect!
5.) Helps You Relax and Stay Calm
Essential oils, like tea tree, are becoming increasingly popular for their mental health benefits. Through diffusing devices, anyone can relax and unwind with a little aromatherapy. Pleasing smells like tea tree are known to reduce stress and bring a sense of calm to the body rapidly and easily.
It is not always easy finding time to relax but with a little tea tree aromatherapy, you can make your life simpler and more enjoyable!
Benefits of Tea Tree Essential Oil Video
Tea Tree oil has been a part of traditional Australian Aboriginal medicines for centuries. It is an essential oil that comes from the Melaleuca alternifolia plant and is known to have antibacterial, antiseptic, antiviral and antimicrobial properties.
The tea tree oil can be used to help treat acne as well as other skin conditions such as eczema, psoriasis or dandruff. In addition it can also be used for treating fungal infections like athlete's foot or yeast infections in women. Learn more about tea tree oil, watch the video:
Tea Tree Oil Diffuser Blend
Lavender essential oil and lemon essential oil go great with tea tree oil. This essential oil blend can be enjoyed in your diffuser today, give it a try:
Lavender Tea Diffuser Blend
3 drops Lavender Essential Oil
3 drops Lemon Essential Oil
2 drops Tea Tree Essential Oil
Ultrasonic Diffuser
Directions: Add essential oil drops and the amount of water needed for your ultrasonic diffuser.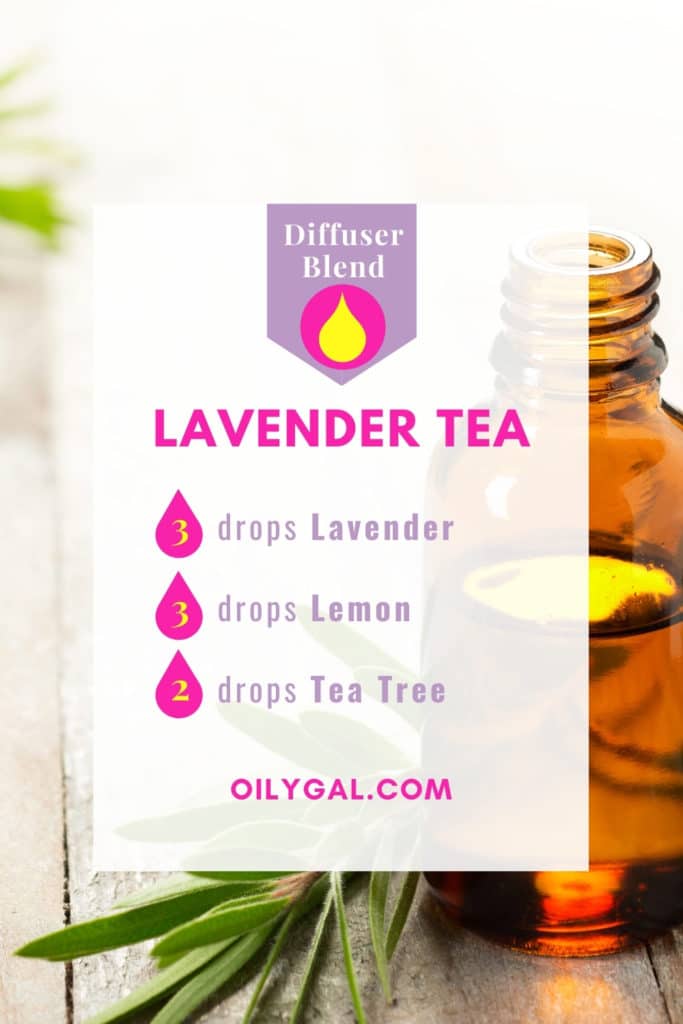 Tea Tree Oil Diffuser Blend - Lavender Tea by OilyGal.com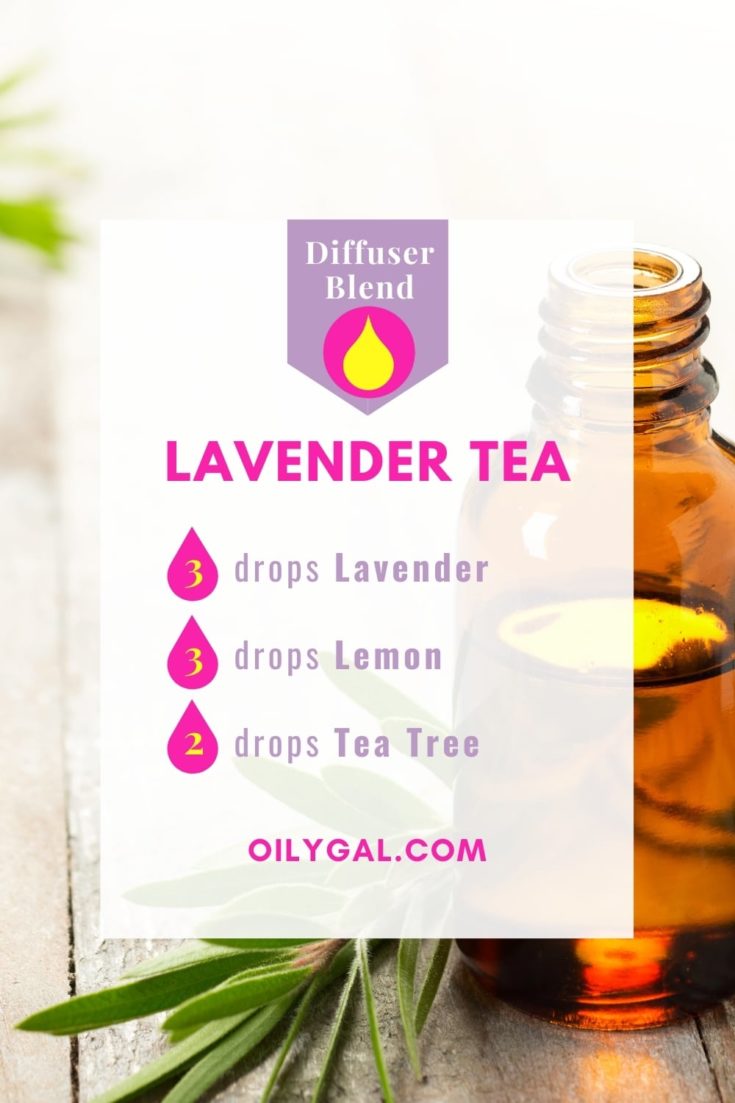 Lavender essential oil and lemon essential oil go great with tea tree oil. This essential oil blend can be enjoyed in your diffuser today, give it a try!
Ingredients
3 drops Lavender Essential Oil
3 drops Lemon Essential Oil
2 drops Tea Tree Essential Oil
Ultrasonic Diffuser
Instructions
Add essential oil drops and the amount of water needed for your ultrasonic diffuser.

Turn on diffuser machine and enjoy the aromatherapy session!
Share on Pinterest