Geranium essential oil uses are numerous. It is a natural and safe option to improve not only your skin and health but also your mood. Geranium oil promotes emotional wellness which may be well needed.
Are you wondering what geranium oil smells like? Geranium essential oil has a sweet, floral, slightly herbaceous scent that is said to be refreshing and uplifting. It is also known for its ability to restore balance and harmony, making it ideal for use during times of stress or anxiety.
Geranium Essential Oil Emotional Benefits
Have you ever used geranium oil? If not, you're missing out on some great emotional benefits! This oil has a uplifting floral scent that can help promote positive energy. Geranium essential oil is known for its ability to help balance emotions and provide emotional benefits.
Perfect for use during times of stress or when you need an extra boost of confidence
Helpful for balancing the emotions
Uplifts the spirits and provide a sense of calm and peace
Helps to ease stress, anxiety, and depression
Restores a sense of emotional equilibrium
Give it a try today and see how it helps you feel!
9 Ways to Use Geranium Essential Oil
If you're looking for a versatile essential oil to add to your collection, geranium just might be the one. Widely used for its therapeutic properties, geranium oil has many benefits that can be enjoyed both topically and aromatically. Here are nine ways to use this amazing oil:
1.) Natural Deodorant
Being a circulatory oil, geranium oil exits through sweating. The rose-like smell keeps you fresh all day. Mix 5 tbsp of water with five drops of geranium oil and have a natural beneficial perfume.
2.) Mental Clarify
Geranium oil enhances mental functioning and boosts the spirits. Beneficial for people who suffer from anger, anxiety and depression, the floral smells calms and relaxes the mind.
3.) Aids Respiratory Ailments
Having antibiotic like effects, geranium oils prevents nose and throat infections. When you apply it to nose and throat, it relieves the soreness having a soothing effect. Use a diffuser and inhale geranium oil twice a day or rub it under your nostrils and on throat after diluting in a carrier oil like jojoba oil.
4.) Tones Muscles
Another of geranium oil uses is that it acts as a muscle toner by contracting and tightening muscles because of astringent properties. It prevents skin and muscles from sagging. Take 5 drops of geranium oil and 1 tbsp of jojoba oil and massage on your muscles.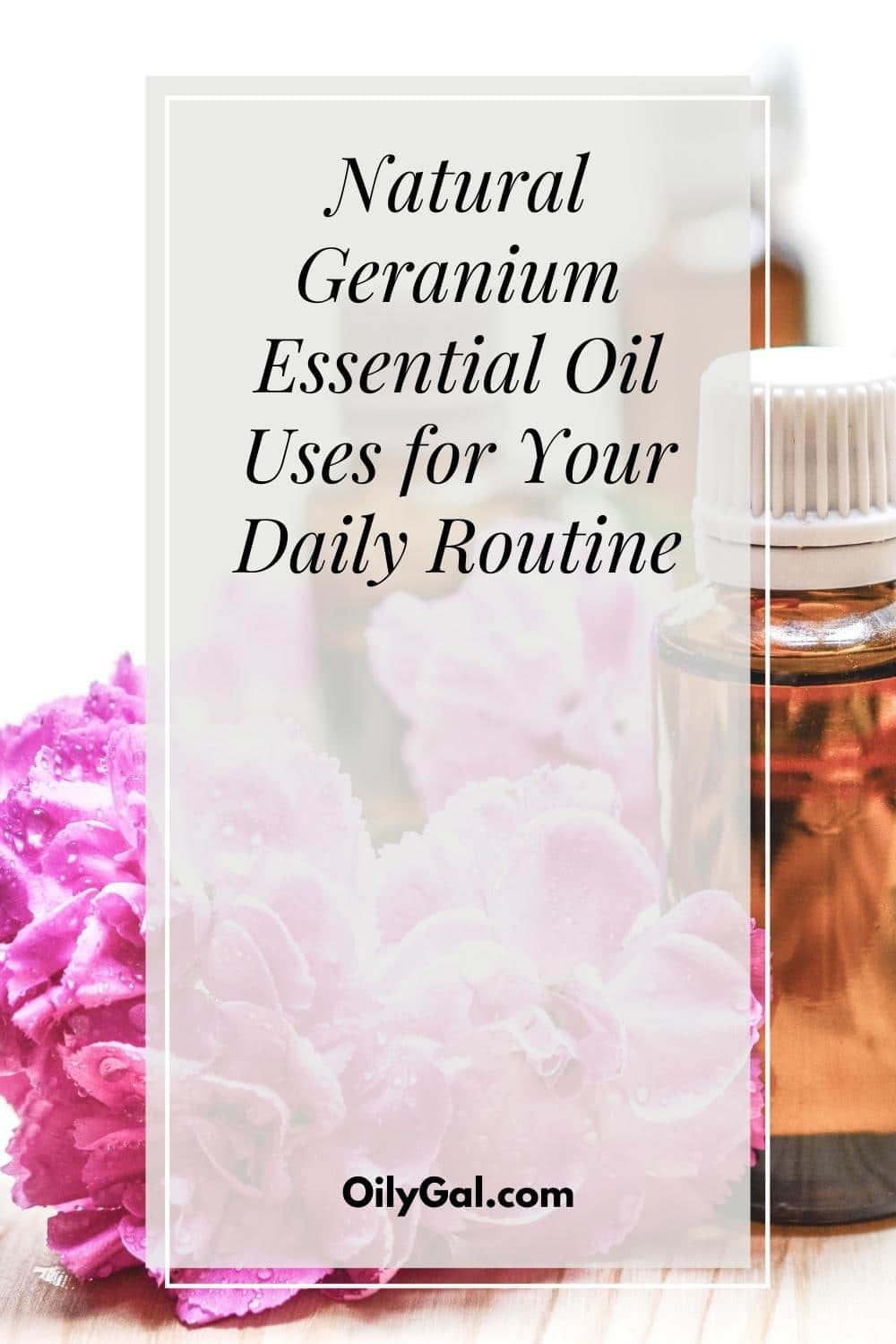 5.) Helps to Heal Skin
Geranium oil boosts the healing process of wounds, cuts and incision. An amazing one of geranium oil uses is that due to its strong cicatrisant properties (skin healing), it increases blood circulation right under the skin which helps healing. One of the great geranium oil uses is that it treats skin ailments like dermatitis and acne. Apply a mixture made of 5 drops of geranium and 1 tsp of coconut twice a day.
6.) Reduces Pores and Wrinkles
Geranium oil is astringent and therefore, minimizes the look of pores and wrinkles as it tightens the skin slowing down the aging process. An incredible benefit among geranium oil uses is that it aids in recycling the dead cells thus supporting the regeneration of new cells which boosts the metabolism. Add it to your daily skincare routine lotion, try adding one drop to your facial moisturizer.
7.) Soothes Nerve Pain
If you apply geranium oil to the skin it has the ability to significantly reduce nerve pain. Make a massage oil with 3 drops of geranium oil and 1 tbsp of jojoba oil. Massage this on the areas where you feel pain or tension.
8.) Anti-inflammatory Agent
Many health issues have some component of inflammation effects. According to research, another important geranium oil uses is that it inhibits the inflammatory reactions in the skin which helps the body fight many issues. Try reducing inflammation in the body by using geranium oil mixed with jojoba oil as an after shower body oil.
9.) Bug Bite Healer
Another one of geranium oil uses is that of a bug repellent. You can make your own by mixing a teaspoon of coconut oil and 1 drop of geranium essential oil together. Then apply directly to bug bite area. It is safer and smells good too. Add baking soda for enhanced effects if you would like to heal insect bites and stops itching.
Geranium Essential Oil Benefits
Some common benefits of geranium essential oil include its ability to uplift the mood, improve cognitive function, reduce anxiety and depression, relieve PMS symptoms, and improve respiratory function. Additionally, geranium oil is also a powerful detoxifier and can help improve skin health.
Add it to a diffuser for an energizing aroma that promotes focus and concentration
Inhale it directly from the bottle when you need a pick-me-up
Mix it with lavender oil and apply it to your temples to help you relax and de-stress
Add a few drops to your favorite lotion or body wash for a refreshing scent that uplifts your mood
Share on Pinterest