Do you know how to use tamanu oil for acne? It's doesn't matter whether you're fourteen, twenty-four, or forty-four… having acne is NEVER an enjoyable experience. From whiteheads and blackheads to scabs and scars, dealing with acne and its side effects can be a VERY frustrating thing.
Sure, you can go to your drugstore and pick up some manufactured cream that may or may not work (or even make the problem worse). BUT, why waste your time and money on those products when there is a much BETTER and natural solution?
It's all about harnessing the powers of what nature has to offer… with TAMANU OIL.
If you haven't heard about tamanu oil it's because it only recently started gaining popularity in the Western world. However, it has been used for its benefits for centuries in the South Pacific.
Read on to find out why!
What is Tamanu Oil?
Tamanu oil is extracted from the nuts of an evergreen tree called Calophyllum inophyllum and has been long used as a remedy in Southeast Asia and Polynesia on the hair, face, and skin.
Tamanu oil is both regenerative and emollient, making it great for use on delicate skin. This oil is known for its power to heal and face acne scars as well as a spot treatment for other problems areas on the face. It has a softening and conditioning effect.
Botanical Name: Calophyllum inophyllum
Skin Type: Best for dry and acne-prone skin
Comedogenic Rating: 2
Shelf Life: 1 year
Consistency & Absorption: Thick consistency. Better used as a spot treatment.
NOTE: It has a strong odor (like bouillon cubes).
Read more about comedogenic and non-comedogenic oil.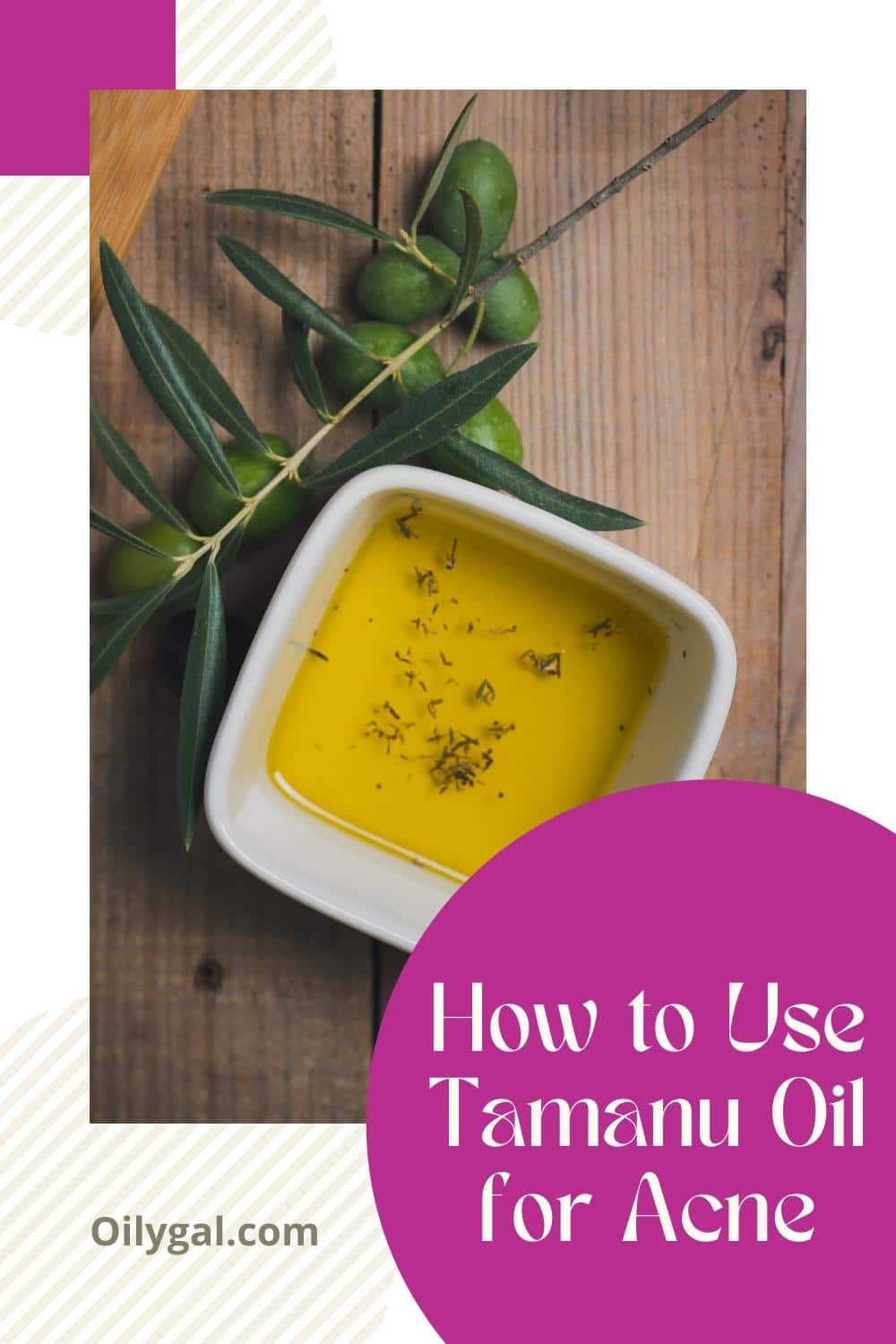 Benefits of Tamanu Oil
Known to reduce inflammation and kill bacteria, tamanu oil is typically used topically on the hair and skin.
Apply tamanu oil directly to the skin or hair to:
1.) Alleviate pain: Relieve pain caused by conditions like shingles, cold sores, and sciatica
2.) Regenerate Skin: Reduce the appearance of stretch marks and scars
3.) Promote Healing: Soothe cuts, burns, scrapes, blisters, and insect bites
4.) Anti-inflammatory Properties: Research on the health benefits is quite limited. However, preliminary studies show that tamanu oil contains calophyllolide, which is a substance that is known to have anti-inflammatory properties.
The oil also contains a form of vitamin E called delta-tocotrienol as well as a variety of antioxidants. It is these antioxidant-rich properties that make tamanu oil excellent for the healing process.
Tamanu oil is rich in fatty acids, which is what makes it uber moisturizing for your skin by acting as a barrier on the skin and locking moisture in.
How To Use Tamanu Oil for Acne
It has a reputation for being one of the best natural remedies for acne and acne scarring in the world!
If you are looking to get rid of face, back, cystic, and body acne naturally… then tamanu is the powerhouse treatment that you have been looking for. The unique soothing and healing properties that this oil has is what makes it a great choice for acne.
To use, simply massage a few drops of tamanu oil directly onto your troubled skin areas. Do this daily to:
-Reduce the Appearance of Acne Scars
-Boost the formation of new skin tissue
-Help Fade Scabs
-Increase the speed at which skin heals
-Balance the Oil on Your Skin
-Reduces the production of sebum, which means your pores are less likely to become clogged and form pimples
"Be good to your skin. You'll wear it every day for the rest of your life."
-Renee Rouleau
Tamanu Oil Skin Care Benefits
The oil extracted from the Tamanu tree has many beneficial properties for the skin. It is a natural anti-inflammatory, anti-bacterial, and anti-septic. It is also a good source of antioxidants, which help to protect the skin from free radical damage.
Tamanu oil is very effective in treating skin conditions such as acne, psoriasis, eczema, and rosacea. It is also effective in reducing the appearance of scars and age spots. Tamanu oil is gentle and non-irritating, making it a good choice for people with sensitive skin.
Tamanu Oil Skin Precautions
When using tamanu oil, it is important to take precautions to avoid skin irritation. Tamanu oil is a strong oil and can potentially cause skin irritation. It is best to start with a small amount of tamanu oil and test it on a small area of skin to see if there is any skin irritation or reactions. If there is, discontinue use.
More Skin Care and Anti-Aging Oils
There are many different types of anti-aging skin care oils that can be used to help reduce the signs of aging. Some popular oils that can be used include:
-Argan oil: This oil is derived from the argan tree, and is known for its high levels of antioxidants, which can help protect the skin from damage. It is also high in vitamin E, which can help maintain the elasticity of the skin.
-Jojoba oil: This oil is derived from the jojoba plant, and is known for its ability to mimic the natural oils produced by the skin. It is also high in antioxidants, which can help protect the skin from damage.
-Rosehip oil: This oil is derived from the hips of roses, and is high in vitamin C, which can help support the collagen in the skin. It is also a good source of fatty acids, which can help keep the skin hydrated.
-Carrot Seed Oil: Carrot oil is very beneficial for the skin. It is rich in vitamins A, C, and E, which are all essential for healthy skin. Carrot oil is also high in beta-carotene, which is a powerful antioxidant. Carrot oil can be used to treat a variety of skin problems, including wrinkles, sunburn, dry skin, and acne. It can also be used to improve the overall appearance of the skin.
All of these oils can be used individually or in combination with each other to create a custom anti-aging blend.
Share on Pinterest