What essential oil is good for mosquito bites? People use essential oils to assist with all sorts of skin issues. Whether it be dry skin or acne-prone skin, many essential oils are safe and encouraged to use on the skin. Essential oils have also been shown to help heal mosquito bites.
The most popular essential oils used to treat mosquito bites are peppermint essential oil, lavender essential oil, and tea tree essential oil.
How to Apply Essential Oil to a Bug Bite
You should never apply essential oil directly to the skin without diluting it. Essential oil is very concentrated and can cause a rash if applied without dilution.
Here are the best ways to apply essential oils to your skin to treat mosquito bites.
Mix a drop or two of essential oil of your choice into your daily unscented lotion. Mixing with already scented lotion can cause an unpleasant aroma or irritation to the skin. Apply the lotion and essential oil mixture to the affected area.
Wash the area of your mosquito bites with your regular soap. Combine your choice of essential oil with your choice of carrier oil and apply it to the clean skin.
Make a DIY roller recipe with essential oils for bug bites.
Applying essential oils to your bug bites can help soothe the itching and promote faster healing. Avoid scratching the bites because this will cause damage to your skin and make your bites more uncomfortable.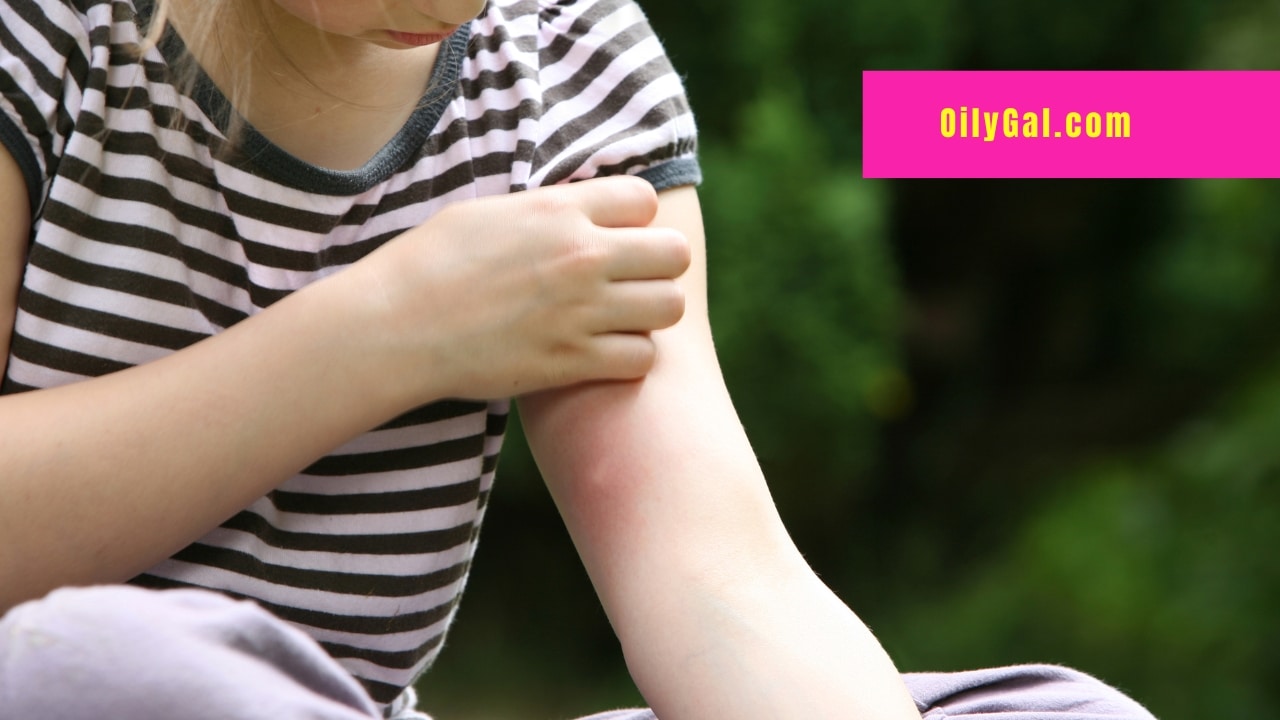 What Essential Oil is Good for Mosquito Bites?
There are many essential oils that are used to treat mosquito bites. All essential oils have multiple practical uses in day-to-day life, so it is ideal to choose an essential oil that will continue to benefit you long after the mosquito bites are healed. Listed below are essential oils that are good for treating mosquito bites and other things they can be used for.
Mosquito Bite Symptoms
Mosquito bites can be unpleasant, and for some people more than just an annoyance, as they may experience a range of symptoms that can range from mild to severe. Common symptoms include an itchy, red bump at the bite site, but in some cases you might also experience fever, body aches, headache and vomiting.
To help treat the itchiness of bites, apply a cool compress to the area or use an anti-itch cream or other home-remedy, like essential oils. And if your signs or symptoms persist after a few days, it is important to see your doctor as there are several mosquito-born illnesses that need prompt medical attention.
Lavender Essential Oil for Bug Bites
Lavender is one of the most relaxing aromas around and is commonly used in aromatherapy to aid people's sleep. A lavender essential oil can be used topically to reduce the itchiness and irritation of mosquito bites. Lavender essential oil is also good for:
Promoting sleep when diffused in the air
Helping with overall relaxation
Helping unwind for bed by being used in a nightly lotion
These are reasons you may want to consider using lavender oil on your mosquito bites. There are many daily uses for lavender essential oil.
Tea Tree Essential Oil for Bug Bites
Tea tree oil is great for treating mosquito bites because it is often used topically to clean out wounds. Tea tree oil can clean the bacteria out of your mosquito bites and promote faster healing and help avoid infection. Listed below are other benefits tea tree oil is known for.
Tea tree oil is used to treat acne
Tea tree oil is used to help with muscle pains
Tea tree oil is used in aromatherapy to reduce fatigue
One thing to know about tea tree oil before buying is that it cannot be ingested. Tea tree oil is poisonous when consumed. If you have kids or animals and are concerned about keeping it out of their reach, it may be better to choose a different essential oil.
Peppermint Essential Oil for Bug Bites
Peppermint oil is another essential oil than can be used to treat mosquito bites and has many other daily benefits. Peppermint oil is safe to ingest in small quantities and is often used to improve oral health and digestion. Peppermint oil is used on mosquito bites to reduce itching and inflammation. Listed below are other common uses for peppermint essential oil.
When diffused in the air peppermint oil can reduce stress and fatigue
Peppermint oil can help with muscle aches
Peppermint oil can be used to improve bad breath
Peppermint oil is a good option to have in your house because of its many uses. It is cheap, easily accessible, and has many purposes. Peppermint oil is one of the most regularly used essential oils on the market because of its easy accessibility and several benefits.
Final Thoughts on Using the Best Essential Oils to Treat Mosquito Bites
Essential oils are a great natural way to treat mosquito bites and have many uses. Even when the mosquito bites clear up there are many benefits to using essential oils in everyday life. It is beneficial to select an essential oil you would find helpful in your daily life when looking for one to treat mosquito bites, so you get more bang for your buck.
Share on Pinterest