Learn how to use Essential Oils for Chronic Inflammation. Inflammation is a natural and necessary response for the body to stimulate healing. When inflammation is chronic, continuing over long periods of time, it becomes damaging to your health and wellness.
Lack of physical activity and improper eating are common causes of chronic inflammation. Essential oils, regular exercise, and proper nutrition can help you ward off chronic inflammation.
15 Essential Oils for Chronic Inflammation
Many essential oils can naturally reduce inflammation. Here are 15 essential oils that are considered to have strong anti-inflammatory properties.
1.) Basil Essential Oil: Purifying herb oil, helps focus thoughts, has cooling qualities
2.) Bergamot Essential Oil: Citrus aroma, allow you relax and "let go", assists with emotional imbalance
3.) Eucalyptus Essential Oil: Medicinal aroma, antiseptic oil, supports a healthy respiratory tract, promotes radiant skin
4.) Fennel Essential Oil: Warm and sweet aroma, aids in self-expressions and unlocking one's potential
5.) Frankincense Essential Oil: Resin oil with potent anti-inflammatory properties, assists with wound healing, calms nerves
6.) Helichrysum Essential Oil: Regenerating oil that is skin healing, stress reducing, antiseptic and anti-inflammation properties
7.) Lemongrass Essential Oil: Tropical grass with a lemony aroma, supports the digestive system, eases aches and pain
8.) Marjoram Essential Oil: Warming and relaxing oil, eases anxiety, clears sinuses and loosens phlegm
9.) Myrrh Essential Oil: Resin oil, enhances well-being, anti-aging favorite, healing to cuts and skin
10.) Oregano Essential Oil: Strong antibacterial oil, dilute well with a carrier oil, helps with fungal infections
11.) Peppermint Essential Oil: Invigorating minty aroma, offers cooling effects, has analgesic properties
12.) Rosemary Essential Oil: Stimulating herbal aroma, clears the mind, anti-bacterial and anti-fungal properties
13.) Sandalwood Essential Oil: Soothing rich woody aroma, restorative effect on mind and emotions, revives dry skin
14.) Thyme Essential Oil: Potent antimicrobial oil, strong herbaceous aroma, revives low spirits
15.) Wintergreen Essential Oil: Sweet and minty aroma, clears the head, antibacterial and antifungal effects, keep away from children
The above oils can be used in various ways, using a single oil or a blend of oils.
How To Use Essential Oil for Chronic Inflammation
Are you suffering from chronic inflammation? Have you tried everything to reduce the pain but nothing seems to work? If so, then perhaps it is time for you to try something new. Essential oils are a great way to combat chronic inflammation and get rid of your pain. Not only will they be able to help with your pain, but these oils can also help improve many other aspects of your life!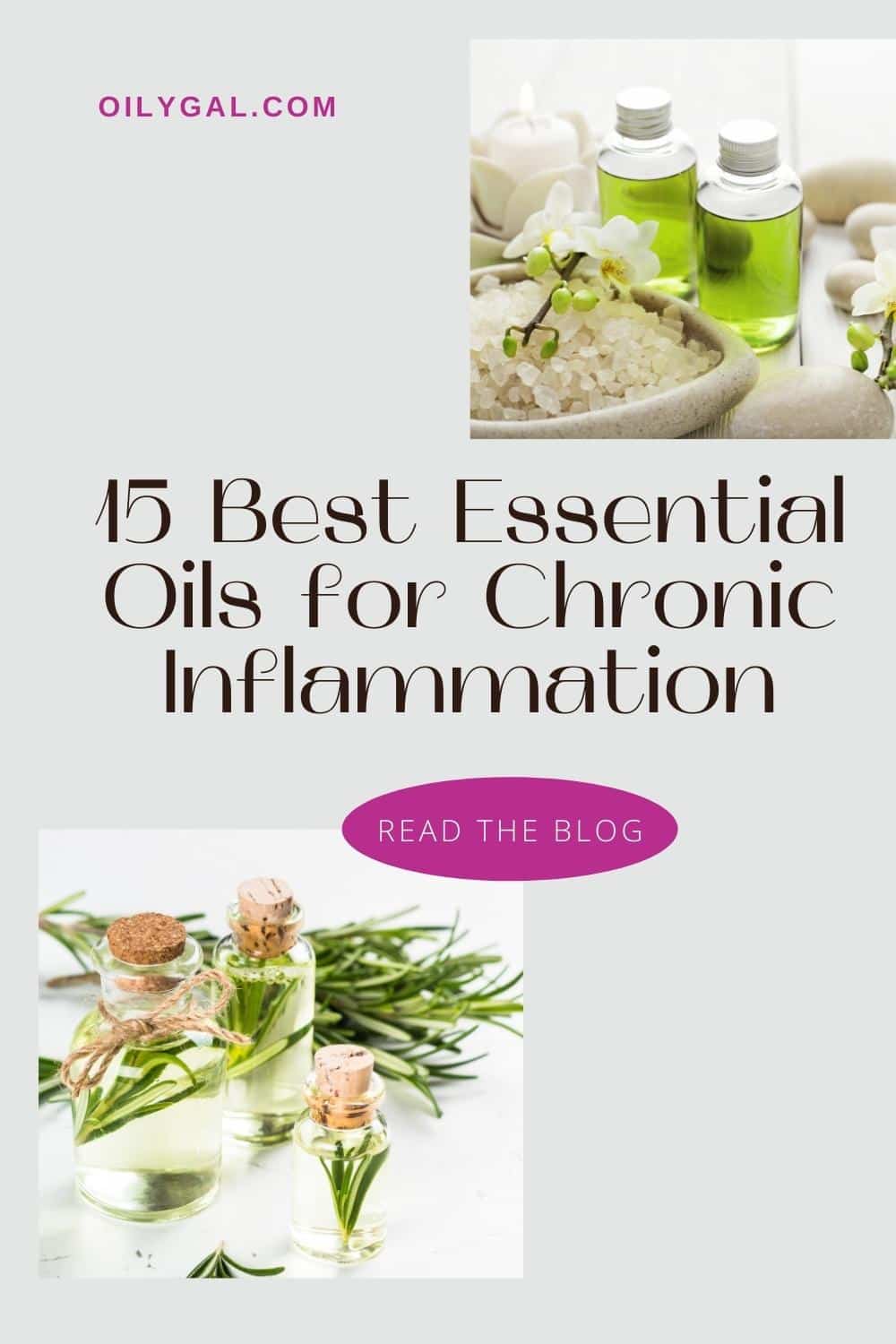 Here are just a few ways to use anti-inflammatory essential oils:
Try diffusing 5 drops in an aromatherapy oil diffuser
Make a roll on and roll the oils onto bottoms of feet
Mix up a blend of 2-3 oils from list with water to create a room spray
Add several drops to unscented lotion and rub on body
Add 2-3 drops to a steam shower right before getting it
I am sure you can think of other ways to use essential oils for inflammation.
The Best Essential Oils for Inflammation Video
Chronic inflammation is very common in today's society. We seem to be constantly surrounded by things that cause our bodies to go into overdrive, causing the body to produce excess amounts of inflammatory chemicals. This can lead down a dangerous road if not treated properly and can even increase your risk of cancer!
With essential oils for chronic inflammation, you will be able to reduce the effects of this dangerous chemical response on your body. Learn about the top picks from Edens Garden in this video to help reduce inflammation and combat pain and soreness!
Inflammation Support Massage Oil Recipe
Massage oil can be a great addition to your wellness routine. We've found that after using it for a week, we have less inflammation and pain in our muscles. This is because anti-inflammatory oils are soothing and help the body release tension. Massage oil also smells wonderful!
6 drops Rosemary essential oil
4 drops Frankincense essential oil
5 drops Sandalwood essential oil
3 drops Lemongrass essential oil
1 oz Fractionated Coconut Oil
1 oz (30 ml) glass bottle
Directions: Combine the fractionated coconut oil (or carrier oil of choice) and essential oils, and shake gently. You're done!
Share on Pinterest