Is Sacred Frankincense the same as Frankincense? Frankincense and Sacred Frankincense are both types of frankincense, a fragrant resin obtained from trees of the genus Boswellia. Sacred frankincense is a rare variety with a higher oil concentration, making it more expensive. It has a stronger aroma than regular frankincense.
Is Sacred Frankincense the Same as Frankincense?
No, there are different types of frankincense essential oil available for purchase. Each type has a different chemical composition, which means they have different therapeutic properties.
Types of Frankincense Essential Oil
Some of the most popular frankincense varieties include:
Boswellia carteri
Boswellia serrata
Boswellia sacra (Sacred Frankincense)
Frankincense Oil vs Sacred Frankincense Oil
Frankincense essential oil is often used medicinally and can help with improving digestion and improve oral health. Frankincense essential is highly sought after for its many benefits, but there are a few different types of frankincense oil to consider before adding it into your routine.
What is the difference between frankincense and sacred frankincense? Sacred frankincense essential oil has a more intense aroma while frankincense essential oil is less abrasive to the nose and has citrus undertones.
Sacred Frankincense Essential Oil
Sacred frankincense essential oil (Boswellia sacra) has a strong woody aroma. Sacred frankincense oil is often used in meditation and promotes a calm spiritual environment. People also use it on their skin to help the complexion look brighter.
What is sacred frankincense good for?
Sacred frankincense oil is used often in spiritual practices, on the skin, and during a massage. Sacred frankincense oil is more difficult to get ahold of than other varieties of frankincense oil and that makes it more expensive than its relatives.
Scared frankincense oil has a stronger effect on relieving sore joints and muscle pain when applied topically
Relieves menstrual cramping when rubbed into the cramping area
A strong woody scent when diffused can help with meditation and other spiritual practices
Sacred frankincense essential oil has been shown to have a stronger effect on relieving body aches and pains when applied. Some people may also enjoy the more potent woody aroma that this variety of frankincense oil provides. However, these benefits come at a much steeper price than other frankincense oils.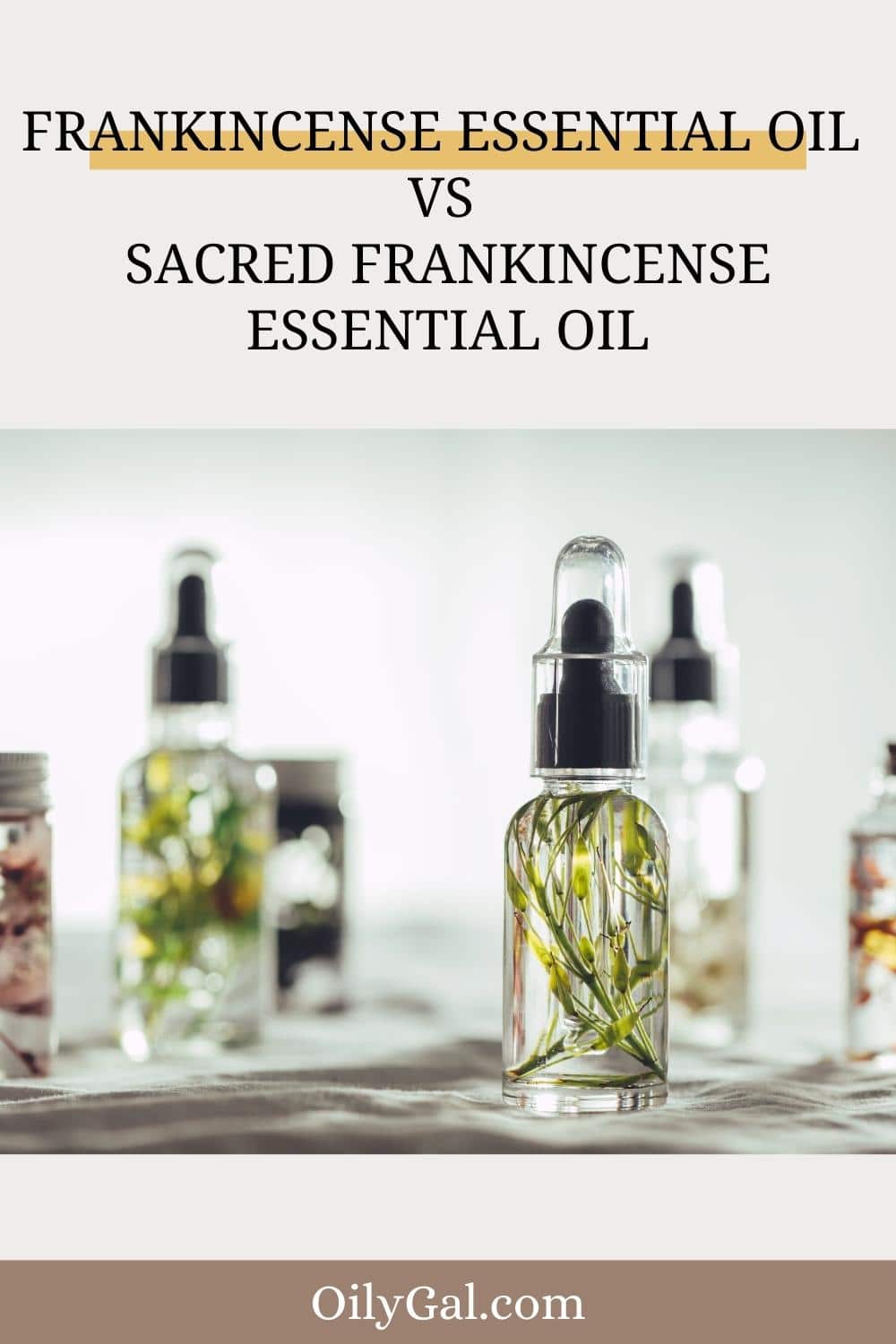 Frankincense Essential Oil
Frankincense essential oil (Boswellia carteri) has a milder woody scent that is accompanied by an undertone of citrus aroma. Frankincense oil is much easier to get ahold of than sacred frankincense oil which makes it cheaper. People typically use frankincense oil the same way they would the sacred variety but may not feel it relieves pain as well as sacred frankincense oil.
What is frankincense essential oil good for?
Frankincense essential oil is easier to get ahold of than sacred frankincense essential oil. This fact makes the essential oil much cheaper and easier to obtain than sacred frankincense essential oil. The frankincense essential oil is also considered to be milder and has citrus undertones which way be more appealing to certain people
Cheaper price point and easier to find
Citrus undertones
Better for people who aren't sure if they'll enjoy frankincense essential oil
Good for people new to learning about essential oils
Choosing this frankincense essential oil is better for people who have never used frankincense before and don't know what to expect. Sacred frankincense essential oil is very expensive and hard to come by, so it might be a waste if you buy it and realize you don't find frankincense essential right for you.
Both sacred frankincense essential oil and other varieties of frankincense essential oils are used in spiritual practice. Some people swear by only using scared in spiritual rituals, but other people see no issue in using other variations in spiritual rituals. You can also use frankincense oil in a spiritual bath.
Frankincense Essential Oil Benefits and Uses
Frankincense oil is derived from the resin of the Boswellia carterii or Boswellia sacra tree. The oil has a woodsy smell and is yellow or green in color.
Frankincense oil has a host of benefits which include:
Anti-inflammatory properties can be used to assist with inflammatory conditions such as asthma, Crohn's disease, and ulcerative colitis.
It's a natural preservative and can be used to extend the shelf life of other oils.
Acts as a natural disinfectant and can be used to kill bacteria and fungus.
It's a natural stress reliever that can be used to treat anxiety and depression.
Some potential applications for frankincense essential oil include:
1. Support healthy respiratory function and clear the airways with its potent anti-inflammatory and decongestant properties.
2. Soothe and protect irritated skin.
3. Promote feelings of peace, relaxation, and calm.
4. Enhance spiritual and religious practices.
5. Aid in focus and concentration.
6. It may help to regulate the menstrual cycle.
7. Boost the immune system.
8. Reduce the appearance of scars and blemishes.
Important Notes on Frankincense Essential Oil Application
Even though frankincense essential oils are highly sought after and traditionally used for medicinal purposes, it is important to not dive right in and risk harm to yourself. Frankincense oil is potent and can cause a rash or skin irritability when used improperly. Keep the following things in mind:
Do a patch test on your skin before applying any new substance
Always dilute your frankincense essential oils before application because they are very concentrated and potent
Neglecting to keep these things in mind puts you at risk of having an allergic reaction or experiencing general skin irritability. Most people will not experience an allergic reaction, but it is still important to be safe when using new products on your skin
How to Choose the Best Frankincense Essential Oil for Your Needs and Final Thoughts
Both types of frankincense essential oils are used for the same practices. If you are new to essential oils or if you've never used frankincense essential oils before you may want to steer away from using sacred frankincense essential oils for now. Sacred frankincense essential oil is expensive and can be a waste of money if you find you don't like frankincense essential oil.
You should choose sacred frankincense essential oil if you are familiar with frankincense essential oils and are seeking to maximize the spiritual and health benefits you receive from using frankincense essential oils. People who frequently used frankincense essential oil will find value in using sacred frankincense essential oils.
Share on Pinterest