Have you tried essential oils for arthritis? Though many welcome the chilly winter months with open arms, those suffering from various forms of arthritis may come to dread them. Not only is the frigidly cold season a painful combination of stiff joints and aching bones; the physical unease associated with arthritic pain can destroy the holiday season for just about anyone.
Worry not, for nature has not forsaken you. A useful combination of natural essential oils can quickly remedy you of your discomfort and find you reprieve in the weather you so dread.
What is Arthritis and What are the Symptoms?
Arthritis is an auto-immune disease that causes chronic inflammation of the joints. It can affect any joint in the body, but it most often affects the joints in the hands and feet.
The arthritis symptoms vary depending on what type of arthritis you have. If you have osteoarthritis, you might feel stiffness or pain in your fingers and toes. If you have rheumatoid arthritis, your joints may swell and feel stiff when they are moved.
Arthritis is treated with a combination of medications and lifestyle changes that help to reduce inflammation and pain. The treatments vary depending on what type of arthritis you have.
Arthritis and Essential Oils
While there is no cure for arthritis, there are many ways to manage the symptoms. One way that has been shown to be helpful is using essential oils. Essential oils have anti-inflammatory and analgesic properties that can help relieve pain and discomfort associated with arthritis.
The best essential oils for arthritis relief are: lavender oil, peppermint oil, eucalyptus oil, juniper berry oil and ginger essential oils. These essential oils have been used for centuries to treat various ailments including arthritis pain relief.
Read All About: Epsom Salt Bath Soak for Sore Muscles and joints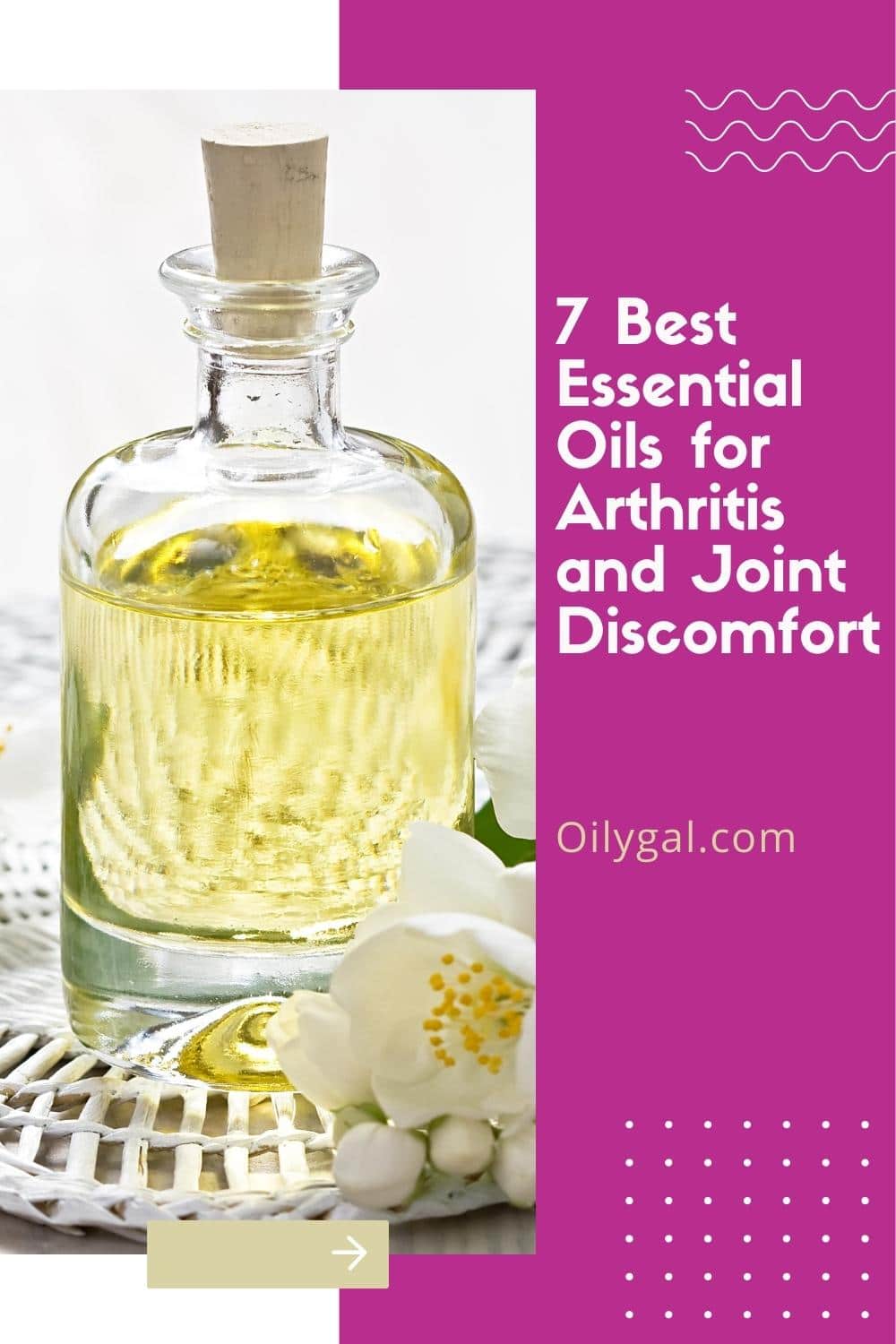 Essential Oils for Arthritis and Joint Discomfort
Essential oils may be your ticket to a night of sound sleep or a relaxed evening free from discomfort and soreness. Here is a helpful list of all the essential oils and some DIY ideas for use.
1. Rosemary Essential Oil
A study carried out in 2001 concluded that the rosmarinic acid found in the rosemary plant is effective in reducing arthritic-related inflammation. The acid reduces seasonal allergy responses in adults as well.
Rosemary oil also soothes joint-pain. Mixing a few drops of the oil with peppermint and coconut oil to dramatically relieve arthritic and muscular pain.
2. Frankincense Essential Oil
Frankincense oil is renowned for its anti-inflammatory properties. In a study conducted in 2014, frankincense oil was found to be more effective in relieving bone, joint, and tendon inflammation than average over-the-counter medication.
Frankincense is also effective in reducing and slowing down cartilage break-down. Use a few drops in your unscented may prove to be the needed remedy.
3. Sweet Marjoram Essential Oil
Marjoram Sweet oil carries analgesic or soothing properties. Applying a marjoram body oil or lotion on the affected area can effectively relieve arthritic pain. Applying a cold compress reduces inflammation and soothes the joints in one go.
4. Birch Essential Oil
Birch oil is often combined with various other essential oils as a major component to relieve both inflammation, and muscle cramps. Birch oil contains both methyl salicylate and salicylic acid which profoundly reduce discomfort in bones and joints, and soothe muscular spasms and cramps. This essential oil can become toxic so use only low doses.
Birch oil can be mixed with coconut oil to create a soothing salve. Additionally, the oil can also be combined with lemongrass and geranium oil for optimal results.
**Keep out of reach of children, this oil must have a safety lid as it can be poisonous to children if they drink it.
5. Peppermint Essential Oil
Peppermint oil is often used to produce analgesic-like properties that are often present in painkillers. Peppermint oil acts as a natural muscle relaxant. When combined with lavender oil, it can produce a cooling, soothing effect.
6. Lavender Essential Oil
Lavender oil is a perfect way for you to relieve arthritic inflammation. It also behaves as an analgesic, targeting affected or sore areas to soothe and relieve pain. When mixed with other essential oils, such as rosemary, lavender oil proves to be very calming and soothing on both a physical and psychological level.
7. Lemongrass & Eucalyptus Essential Oil
Both strong-scented essential oils have anti-inflammatory and analgesic properties. Whether combined together or used separately, both have effectively soothing and therapeutic effects for arthritic pain. Lemongrass behaves as a diuretic, drawing out excess liquid from tissues and reducing inflammation.
Rubbing both oils on affected areas may provide mild to moderate relief, make sure to first dilute the essential oils in a suitable carrier oil like jojoba oil.
How to Use Tea Tree Oil As A Natural Antiseptic To Relieve Joint Aches
Tea tree oil is a natural antiseptic that can be used to relieve joint aches. It has been proven to be an effective treatment for various skin conditions and can also be used as a mouthwash for toothaches.
Tea tree oil contains compounds like terpinen-4-ol, which have been found to have antibacterial properties. It also contains cineole, which has been found to have anti-inflammatory properties.
Tea tree oil is extracted from the leaves of the Melaleuca alternifolia plant and can be applied topically or taken orally.
The use of tea tree oil dates back centuries and was first documented by Captain James Cook in 1772 when he observed indigenous people in Australia using it as an antiseptic agent for wounds.
How to Use Lavender Oil to Soothe And Nourish Painful Joints
Lavender oil is a natural treatment for pain in joints. It can be used to soothe sore muscles and joints. It can also be used to help with sleep, anxiety, stress, and depression.
The soothing properties of lavender oil are due to the presence of linalool. This compound is what gives lavender its distinctive floral scent and has been found to reduce stress levels in animals in lab studies. Lavender oil is also known for its anti-inflammatory properties which can help reduce swelling and pain in joints.
It's important that you dilute your lavender oil before use as it can cause skin irritation if applied neat or undiluted on the skin. Lavender oil should not be used on broken skin or open wounds as it may lead to infections due to all of the essential oil's plant oils.
Conclusion of Arthritis Essential Oils
Arthritis is a joint disease that causes inflammation and pain in the joints. It can affect the hands, feet, spine, neck, hips and knees.
There are many different types of arthritis. The most common type is osteoarthritis which is caused by wear and tear to the joints. Rheumatoid arthritis is an autoimmune disease that causes chronic inflammation of the joints and cartilage damage.
Share on Pinterest