Here you will learn how to make a balsam fir essential oil blend, a DIY Cleaning Spray that will not only clean but also left your home smelling of the great outdoors. This oil is steam distilled from the needles of the balsam fir.
Essential oils are natural, aromatic compounds that come from plants. They have many benefits, including being antibacterial and antifungal. In addition, they smell great and can give your home a fresh, clean scent.
Balsam Fir is a tree oil that has grounding properties and a wonderful woodsy aroma that brings with it an uplifting yet soothing effect. The fresh scent of evergreen trees make balsam fir essential oil a good choice for DIY cleaning and holiday blends.
What is Balsam Fir Good For?
Besides being a good choice for cleaning, balsam fir (Abies balsamea) is great for soothing tired muscles. Inhale balsam fir oil to promote emotional balance and improve respiratory health.
Therapeutic benefits include:
-Calms muscles and joints after a long day
-Supports a healthy respiratory system
-Emotionally balancing and soothing
-Reminiscent of the great outdoors
​​​​​​​-Help refresh the mind and promote focus
Balsam fir essential oil is considered safe for children. When using with children, use low drop amounts and dilute them with a carrier oil like jojoba oil or unscented lotion before applying to the skin.
Balsam Fir Essential Oil Blends Well With
If you are looking for an essential oil that has a woodsy, earthy smell and is known to be helpful in healing respiratory issues, balsam fir essential oil may be the perfect oil for you. This oil blends well with other oils such as cypress, ginger, and lavender, making it a great addition to your collection.
Here are more essential oils that blend well with balsam fir:
cedarwood
lemon
tea tree
black spruce
peppermint
juniper berry
frankincense
eucalyptus
Balsam Fir Essential Oil Cleaning Spray Blend
Balsam fir essential oil is a potent essential oil that is widely used for cleaning purposes. It has a refreshing and woody scent that helps to cleanse the air and eliminate any unpleasant odors. Balsam fir essential oil is also known to be a potent disinfectant and can help to kill bacteria and fungus.
25 drops Balsam Fir essential oil
1 tablespoon white vinegar
3/4 cup Distilled water
8 oz Glass Spray bottle
Directions: Add essential oils and vinegar to the spray bottle, swirl to mix. Fill the rest of the bottle with distilled water. Shake before use, oil and water separate so this recipe will not stay blended. To use, shake well and spray on surfaces to clean, wipe down with microfiber cloth.
Balsam Fir Essential Oil for Cleaning
Balsam Fir essential oil has many benefits for cleaning. It has a refreshing, woodsy scent that helps to clean and purify the air. It is also a natural disinfectant and can be used to clean surfaces and floors. Balsam Fir oil is also a natural deodorizer, so it can be used to remove bad smells.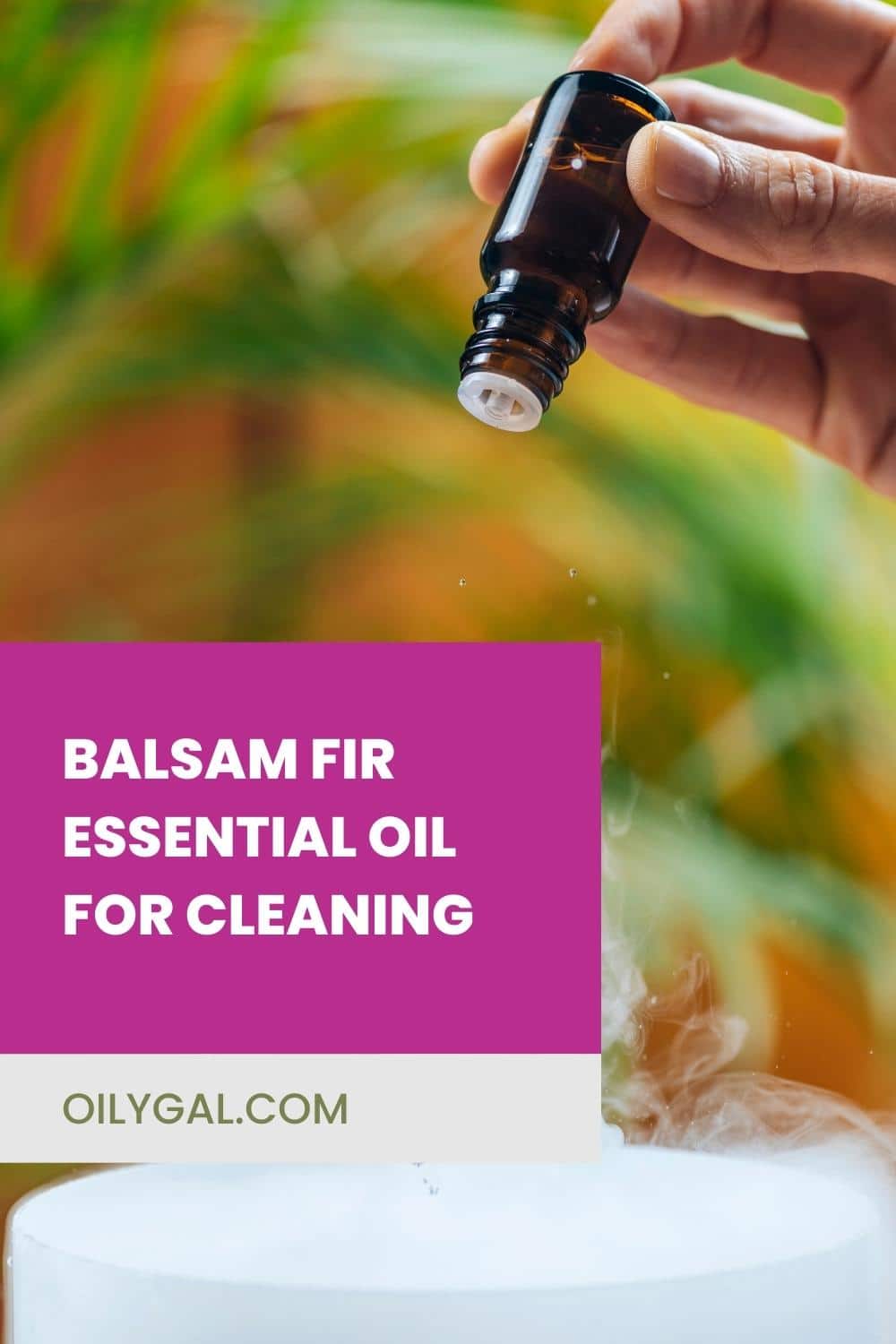 Cleaning with Essential Oils
Household cleaners are packed with harsh chemicals that can be harmful to your health and the environment. Cleaning with essential oils is safe, effective, and nontoxic.
Fortunately, you can make your cleaning easier—and more fragrant—with essential oils. Here are a few of more essential oil cleaning recipes:
Window Wipes:
Combine 5 drops of lemon oil, 5 drops of pine oil, and 1 cup of vinegar in a spray bottle. Spritz the solution on a window and wipe with a cloth. The lemon oil will cut through grease and grime, while the pine oil will give your windows a fresh, piney scent.
All-Purpose Cleaner:
Combine 3/4 cups of water, 1 tablespoon of white vinegar, and 20-30 drops of your favorite essential oil in a spray bottle. Shake well and spray on surfaces to be cleaned. Wipe with a cloth.
Toilet Bowl Cleaner:
Combine 1 cup of borax and 20 drops of your favorite essential oil in a bowl, stir well. Sprinkle 1/4 cup into the toilet bowl. Let the cleaner sit for 15 minutes, then scrub the bowl with a scrub brush.
These are just a few of the many ways you can use essential oils to clean your home. With such a variety of oils to choose from, you can find the perfect scent for any room. And of course, essential oils have many other benefits beyond cleaning, such as boosting your immune system, fighting bacteria and viruses, and reducing anxiety.
So why not give essential oils a try for your next round of cleaning? You may be surprised at just how effective they can be.
DIY Cleaning Spray with Balsam Fir Essential Oil Printable Recipe
Balsam fir essential oil is a great option for cleaning because it is natural, has antibacterial properties, and smells nice. Click the print button on the recipe card below to get a printable version of this recipe for future use. Be sure to rate the recipe too!
[mv_create key="6″ thumbnail="https://oilygal.com/wp-content/uploads/2021/06/Balsam-Fir-Essential-Oil-Cleaning-Spray.jpg" title="DIY Balsam Fir Cleaning Spray | OilyGal.com" type="recipe"]
Share on Pinterest